Product Overview
FS6+ Helps To Relieve Leg Pain Via Compression Technology
The OrthoSleeve FS6+ Compression Leg Sleeves can provide relief for Plantar Fasciitis, heel pain, foot swelling, calf muscle pain, Achilles Tendonitis, shin splints, poor circulation, and pain in your legs or feet. The OrthoSleeve FS6+ provides medical grade orthopedic support via the patent pending Compression Zone Technology®.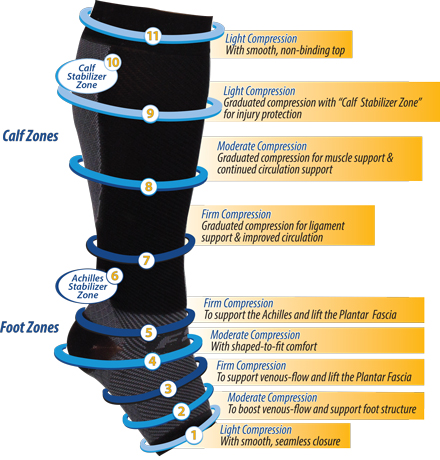 FS6+ COMPRESSION 11 ZONES
There are eleven graduated zones of medical grade compression support for your legs and feet to relieve pain. These zones support the leg, ankle and foot. The comfortable slim design removes the need for hot, bulky neoprene, plastic, or Velcro®.
Even with all this support you have full range of motion without the inconvenience of bulkier bracing which allows you to wear the FS6+ all the time, under pants, socks or shoes.
The FS6+ Compression leg sleeves boost circulation while providing lower leg support also.
The light compression zones are 10-15mmHg. Moderate zones are 15-20mmHg.
Firm zones are 20-30mmHg.

Questions?
Call 800 750 6729 Monday through Friday, 8:30 am - 5:00 pm EST or use the chat function in the bottom left of your screen.