Product Overview
How The OrthoSleeve® FS6 Compression Foot Sleeves Work
Do you suffer from Plantar Fasciitis, foot swelling, heel pain or poor circulation? If you do, you should join the millions of Americans who have tried and benefited from using the OrthoSleeve® FS6 Compression Foot Sleeve.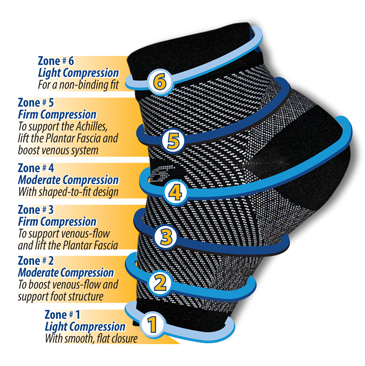 The OrthoSleeve® FS6 Compression Foot Sleeve uses patent pending Compression Zone Technology™ with medical grade ortohpedic support to provide relief to those suffering with plantar fasciitis, poor circulation, chronic heel pain, swollen feet, swollen ankles.
Application:
The FS6 is comfortable enough to be worn under normal socks along with shoes.
The FS6 is also used very effectively as a night splint for treating plantar faciitis.
The FS6 is often used to prevent Plantar Fasciitis from flaring up again.

The FS6 is availbale in White, Black, or Natural colors.
Material: 24% Spandex 76% Micro-Nylon
The light compression zones are 10-15mmHg.
Moderate zones are 15-20mmHg.
Firm zones are 20-30mmHg.
How It Works For Plantar Fasciitis
In medical terms, plantar fasciitis is a result of an abnormal force pulling upon the plantar fascia and medial intrinsic foot muscles attached to the calcaneus.

So, if those muscles are overworked (perhaps due to extra weight wearing) and under supported (perhaps due to lack of arch support in the footwear worn) then the muscles become over stretched during the course of the day. So when you go to bed at night for an extended period of time and your fascia muscles are not being constantly stretched, the muscles contract over the six plus hours you are sleeping (unless you are a sleepwalker!!). So when you get up in the morning you suffer with that first step as it stresses the fascia muscle where it connects to your heel (calcaneus).

The key is to provide the arch support during the day and there are different ways to do this. One is to wear shoes with good arch support, another is to wear an orthotic like Genext to provide additional support and another would be to wear the FS6 to provide additional compression in the arch.

Where the FS6 comes in handy is when you are at home and normally take your shoes off and change into house shoes so that it provides the support you need for the rest of the evening when you are out of shoes.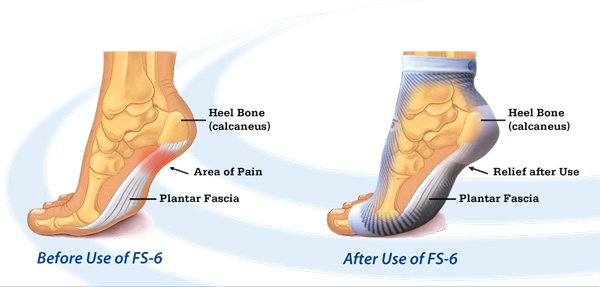 Sizing
For measuring, measure around the circumference of your foot from the arch to the top of your foot, all the way around.
If that is not possible, use this handy guide below to help you.

Questions?
Call 800 750 6729 Monday through Friday, 8:30 am - 5:00 pm EST or use the chat function in the bottom left of your screen.